←

Back to News
Murray A. Lightburn Announces Fall Tour Dates Supporting Hawksley Workman in Ontario + Headlining Dates in Montréal Through EU/UK
Sep 20, 2023
STREAM + PURCHASE ONCE UPON A TIME IN MONTREAL
"Lightburn channels his grief into classy, soulful arrangements wholly tailored to his late father's tastes" – Mojo (4 out of 5)
"with melancholy strings, horns and jazzy arrangements, Lightburn sounds more at home than ever." – BrooklynVegan
"Murray A. Lightburn's smooth vocals shine on this elegant jazz tour de force" – Dominionated
---
Murray A. Lightburn has today announced autumn tour dates in Canada, supporting Hawksley Workman, along with headlining dates in Montreal and across the EU/UK [all dates below]. The live performances celebrate his latest acclaimed solo album, Once Upon A Time In Montreal, which arrived in March via Dangerbird Records.
Once Upon A Time In Montreal, which garnered praise from Mojo, Exclaim!, The Montreal Gazette, RANGE, Brooklyn Vegan, The Irish News and Scotsman, amongst many others,  was just part of a busy 2023 for the longtime frontman of The Dears. Earlier this year, Lightburn scored the heralded indie feature film, I Like Movies: Original Music From The Motion Picture, from director Chandler Levack. And October 18 will see the of Black Life: Untold Stories, an eight part documentary series on CBC from Leslie Norville, for which Lightburn wrote the theme song, and scored four of the episodes. The series made its world premiere earlier this month during the Toronto International Film Festival.
---
Lightburn's third solo full-length, Once Upon A Time In Montreal is a tribute to his late father, a jazz musician from Belize who moved to Montreal via New York to reconnect with his teenage sweetheart. The two were married for 56 years, until he passed in April 2020 in a Quebec nursing home where he'd been living with Alzheimer's.
Lightburn's father was a saxophonist who worshiped Coltrane. There's no hard bop on Once Upon A Time in Montreal, but it does feature an array of Montreal jazz players. Like this album's predecessor, 2019's Hear Me Out, Lightburn is in full crooner mode, distilling the passion and intensity of The Dears into gentle arrangements that feature an orchestral section, drawing on late-'60s, early-'70s folk/jazz/pop: Dionne Warwick, Nick Drake, Bill Withers, Serge Gainsbourg, Al Green, etc. While the influences might be obvious, the end result is singular and without peer. 
After the patriarch passed, Murray's 86-year-old mother started revealing tender details of their life together. "She painted a portrait of a man that I had never met in my life," says the songwriter. "I then pieced the story together." He didn't yet know he was writing a narrative album. The first batch of songs were written as part of the grieving process—keeping busy, in the way that is most natural for a songwriter with an internationally acclaimed 25-year career. 
Once Upon A Time In Montreal was produced by Howard Bilerman (Leonard Cohen, The Weather Station, Godspeed You! Black Emperor), who Lightburn worked with on Hear Me Out. The album features Dears drummer Jeff Luciani along with a number of talented, local jazz players, including Frank Lozano, who delivers a soaring sax solo on the title track, which for Murray conjured the ghost of his father, who—after abandoning music when he became a born-again Christian—had picked up his sax again in the 2000s to play on two Dears songs. As soon as Lozano finished, "I knew it was a 400-foot home run," says Lightburn. "I knew it was something that would hold. I knew also at that moment how much my dad would love this record. Even if he never told me, I know that it would be on repeat in his car if he was still with us and driving around. That was my motivation—to make something I know he would love. It's not indie rock, you know?"
Tour Dates:
10/21 – Montreal, PQ @ Espace Knox
10/26 – Huntsville, ON @ Algonquin Theatre ^
10/28 – Ottawa, ON @ National Arts Centre ^
11/03 – London, ON @ Aeolian Hall ^
11/04 – Kingston, ON @ Blu Martini ^
11/05 – Peterborough, ON @ Market Hall ^
11/09 – Toronto, ON @ Danforth Music Hall ^
11/24 – Vienna, AT @ Blue Bird Festival
11/25 – Istanbul, TR @ Zorlu PSM Touch
11/28 – Cambridge, UK @ Thirsty
11/29 – Nottingham, UK @ Metronome
12/01 – London, UK @ St. Pancras Old Church
12/02 – Paris, FR @ L'Archipel
12/03 – Zwolle, NL @ Theodorachapel
^ Hawksley Workman
---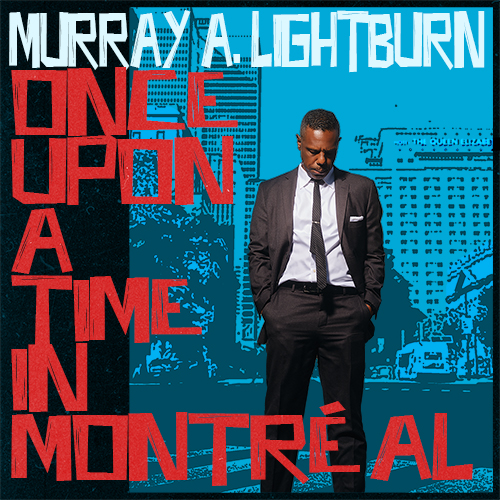 Once Upon A Time In Montreal track list:
Dumpster Gold

No New Deaths Today

In The Kingdom Of Heaven

The Only One I Want To Hear

Oh But My Heart Has Never Been Dark

Reaching Out For Love

Once Upon A Time In Montreal

Girl You've Got To Let Me Go
Connect with Murray A. Lightburn:
www.murraylightburn.com
www.twitter.com/masstolight
www.instagram.com/murray_a_lightburn
www.facebook.com/murraylightburn