←

Back to News
MILLY Announce National Headline Tour – Tickets On-Sale Friday July 21st
Jul 19, 2023
Today, Los Angeles trio MILLY have announced their first national headline tour, kicking off on Oct 7th in Phoenix, AZ and ending in Los Angeles on Nov 8th. The announcement comes on the heels of their Sebadoh tribute EP, The Freed MILLY, which included hand drawn text by Lou Barlow himself. Last year, the rising group released their first full length LP,  the punchy, muscular Eternal Ring, which combined slowcore, grunge and emo to critical acclaim. Across the tour they'll be supported by Rocket, and Bay Area-based Toner will join in LA & Oakland. Tickets are on-sale this Friday, July 21st at 10am local time HERE.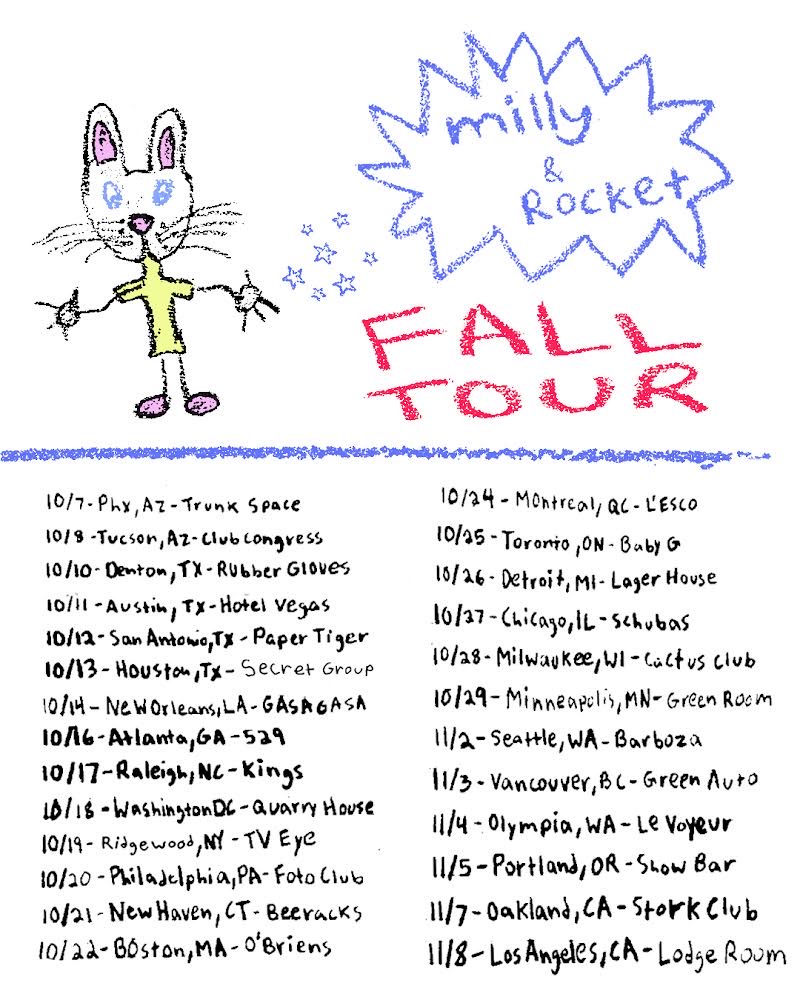 Tour Dates
Oct 7 – Phoenix, AZ @ Trunk Space
Oct 8 – Tucson, AZ @ Club Congress
Oct 10 – Denton, TX @ Rubber Gloves
Oct 11 – Austin, TX @ Hotel Vegas
Oct 12 – San Antonio, TX @ Paper Tiger
Oct 13 – Houston, TX @ Black Magic Social Club
Oct 14 – New Orleans, LA @ Gasa Gasa
Oct 16 – Atlanta, GA @ 529
Oct 17 – Raleigh, NC @ Kings
Oct 18 – Washington DC @ Quarry House
Oct 19 – Brooklyn, NY @ Tv Eye
Oct 20 – Philadelphia, PA @ Foto Club
Oct 21 – New Haven, CT @ Beeracks
Oct 22 – Boston, MA @ O'Briens
Oct 24 – Montreal, QC @ L'Esco
Oct 25 – Toronto, ON @ Baby G
Oct 26 – Detroit, MI @ Pj's Lager House
Oct 27 – Chicago, IL @ Schubas
Oct 28 – Milwaukee, WI @ Cactus Club
Oct 29 – Minneapolis, MN @ Green Room
Nov 2 – Seattle, WA @ Barboza
Nov 3 – Vancouver, BC @ Green Auto
Nov 4 – Olympia, WA @ Le Voyeur
Nov 5 – Portland, OR @ Show Bar
Nov 7 – Oakland, CA @ Stork Club
Nov 8 – Los Angeles, CA @ Lodge Room
LISTEN TO DEBUT ALBUM ETERNAL RING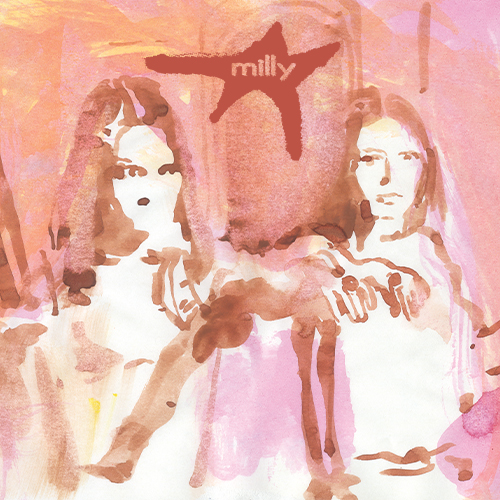 ---
Praise for MILLY:
"a blend of the woozy, guitar-driven vulnerability of Swervedriver and the noise-laden introspection of Nineties post-hardcore trailblazers Hum — yet without the overly reductive inauthenticity that plagues the seemingly endless stream of bands chasing down a 21st century version of the shoegaze sound." – 
Rolling Stone
"a band that fuses the wall-of-guitar sounds of Hum and Catherine with early emo like Sunny Day Real Estate and minimalist beauty à la Belly, resulting in a warm bath of fuzzed-out indie rock that nonetheless balances the riffing with gentler moments of airy shoegaze" – AV Club
"Meeting at the midpoint between shoegaze and '90s-style alt-rock, "Talking Secret" lets torrents of guitars overwhelm bandleader Brendan Dyer's hazily moody vocals" – NPR
"Crawling tempos and dazed, cinematic lo-fi… a band to watch" – Paste Magazine
"impeccable alternative influences, a towering instrumental presence, and an expressive main songwriter already point to a bright future for the band." – Under the Radar
"a soundscape both comforting and abrasive"  – Beats Per Minute
"A fuzz-laden jammer that re-envisages J Mascis at the head of a dream pop outfit" – Clash
---
To understand MILLY's debut album Eternal Ring, you have to go back to Dyer's childhood. Learning guitar and drums from his uncle, a musician, from the age of ten, Dyer was one of the only young people in his rural Connecticut town interested in anything other than sports and other stereotypical markers of American life. Naturally, Dyer began to gravitate towards emo — the closest thing many teens have to outsider art — as an art form he could identify with, bands like Hawthorne Heights subconsciously laying the groundwork for the music he would make as an adult. "It probably only lasted a year or two that I was interested in that sort of thing, but now I feel like it's become a thing in my life where it's like, full circle," he says. "When we were writing this album, and touring before writing this album, I was reconnecting with a lot of the music that I was listening to in my youth and realizing that there was a reason why I liked this music so much."
The MILLY of Eternal Ring, though, is a vastly different project from the one Dyer began in his childhood bedroom. Where the band's old songs were dazed and gorgeously laconic, Eternal Ring is muscular, punchy, almost alarmingly direct. You only need to hear album opener and debut single "Illuminate" to understand the change: slipping quickly from emo balladry into something heavy and intoxicatingly intense, it's a clear marker that this is the work of a tighter, more dynamic MILLY. There is no slack to these songs — even the nine-minute "Stuck In The Middle" is an impossibly taut endurance work, jumping from emotive build to gut-wrenching squall in a second.
Written during the early days of the pandemic, Eternal Ring often deals with the cataclysmic feeling of modern society — a sense that the world could end tomorrow, or even today. "The themes on this album relate to my fear of death — a lot of it is thinking about other worldliness and pondering what comes next, and trying to make some sense of it," he says. Songs like "The End", an ethereal dirge unlike anything else MILLY have ever made, speak to these fears. Recalling the apocalyptic dream-rock of former MILLY tourmates DIIV and Swervedriver, it's a standout moment on Eternal Ring — a reckoning with past, present and future that carries the illusory texture of an oil painting. "I'm really close with my parents, and I went a really long time without seeing them, which was really scary to me. When we were recording "The End", and I was doing the vocal, I would close my eyes and think of home, whatever home meant — it was this weird reaching for comfort to be there for myself, with this sort of lingering fear and chaos."
Ultimately, though, Eternal Ring is an album entrenched, deeply, in the here-and-now — an elegy for the modern world that still manages to bring in threads of love and light around the edges. It's undeniably some of the heaviest music Dyer co. have ever made, as well as some of the most beautiful — a record about care and compassion that's raw, real, and, at a time like this, totally vital.
FOLLOW MILLY
Instagram – Twitter – Facebook
For more information on MILLY, contact Grandstand Media:
Nik Soelter – niks@grandstandhq.com