←

Back to News
Hataałii Weathers the Agony of Existence With Surrealist Humor & Wry Melodicism on 'Singing Into Darkness'
Jun 30, 2023
"Weirdly genreless and out-of-time, yet constantly reaching for some sort of cosmic agency." — Aquarium Drunkard
"Taps into Bob Dylan's most unpredictable vocal zones." — FLOOD
---
Today, singer-songwriter Hataałii releases Singing Into Darkness, his debut album for Dangerbird Records. Throughout, Hataałii serves up the heavy themes of these jangly garage rock and darkly gothic folk songs with coy subversion. Whether investigating the sting of grief and the random cruelties of life ("Story Of Francisco"), Navajo suffering and the unsatisfactory salve of historical context (the Velvets-cribbing "For Liquor"), or the unbearable dynamic between tourists and residents of the reservation (the album-closing epic "Double Doors"), it quickly becomes clear that Hataałii has a sophisticated understanding of the imagistic language and mythological underpinnings of the best rock and roll music. 
With Singing Into Darkness, Hataałii's intuition sharpens into a visceral and inquisitive, yet artfully obfuscated, sense of focus — a special rock songwriting talent challenging himself to excel within the form. Listen to Singing Into Darkness. 
Raised in Window Rock, AZ, the capital of Navajo Nation, 20-year-old Hataalii's (pronounced: Hah-toth-lee) music has been praised by Aquarium Drunkard as "weirdly genreless and out-of-time, yet constantly reaching for some sort of cosmic agency," while FLOOD praises his penchant for "tapping into Bob Dylan's most unpredictable vocal zones." Indie hero Mac DeMarco is not only an inspiration but a fan, having shouted Hataałii out during a recent podcast interview.
Hataałii began self-releasing his music as a teenager, beginning with 2019's Banana Boy, the fruit of a personal challenge to write a song every day. Word-of-mouth and online interest swelled, and he followed Banana Boy with 2020's Painting Portraits — which added shoegaze and bossa nova to his sonic arsenal — and followed that with 2021's Hataałii. Earlier this spring, he shared COMPLETELY!!! personal, a lo-fi collection that serves as evidence of his restless creative streak. 
Lead single "Midnight Soldier" is hefty with a barren desert ambience — a snarling doom spiral that's part Television, part Jonathan Richman.
Read an interview with Hataałii over at 15 Questions to learn more about his creative process and why he views songwriting like going to the gym. 
Keep an ear out for Hataałii live dates to be announced soon. 
Singing Into Darkness Tracklist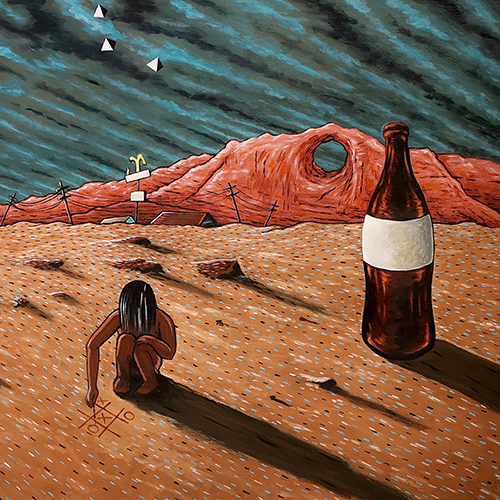 Midnight Soldier
Laugh Out Loud
For Liquor
Story Of Francisco
Male Rain Days
Shouters Shame
Tsaile Southbound
Council Delegate's Wife
Pain In Popejoy's Hand
Once More
Standing Ovation
Double Doors
Connect With Hataałii