LISTEN + SHARE: "WITCHKNIFE" SINGLE 
PRE-SAVE + PRE-ORDER "THROUGH A DARK WOOD (DELUXE)" 
September 29th, 2021 (Los Angeles, CA): 
Today, acclaimed Los Angeles indie songwriter Alex Brown Church has released a new Sea Wolf single, "Witchknife," and announced the release of "Through A Dark Wood (Deluxe)" on November 19 via Dangerbird Records. 
"Having it come out now feels kind of fitting," Church remarked. "'Through a Dark Wood' came out in March 2020 at the beginning of the pandemic, when we were all entering into a new 'dark wood' together. We're beginning to figure it out, though we're still not sure what's next. Just like the story of the album."
"Through A Dark Wood (Deluxe)" includes 5 new songs from the original sessions where Church, coming out of a bruising divorce, wrote, recorded and scrapped a full album's worth of material before starting anew.  
 "​​'Witchknife' is about a relationship in trouble, and references the 'Dark Wood' of the album title in both a literal, and metaphorical, kind of fairy-tale way. I always had the notion that I would return to these songs one day, and with a bit of time having passed, and some gained perspective, I realized they were part of the 'dark wood' story all along," Church says. 
In revisiting the new single, Church found himself inspired to try something new, noting, "I've always wanted to try a hip hop inspired drum part in a Sea Wolf song, and this one finally seemed like the right candidate."  The result is a song that is at once a part of the story of the record, yet is infused with a fresh new perspective.
Featuring a guest performance from acclaimed composer and pianist Dustin O'Halloran, "Through A Dark Wood (Deluxe)" includes contributions by long-time Sea Wolf players Lisa Fendelander (keyboards), Scotty Leahy (guitar), Joey Ficken (drums), and frequent collaborators Zac Rae (keyboards) and Francesco Le Metre. 
Through A Dark Wood is a raw, contemplative album that explores the complex feelings surrounding relationships, loss, the magnitude of current events, and ultimately the process of finding hope through it all. Church's carefully crafted lyrics are wrapped around expansive indie/folk melodies, lush drum machines and a stunning string quartet, maintaining a sense of musical familiarity while still pushing his sound forward. From the resilient, evocative anthems "Blood Pact" and "Two of Us" to the sweeping arrangements and poetic imagery in "Frank O'Hara" and "Back to the Wind", his ability to gracefully illustrate deep, complex human emotions is on full display. As cathartic as it is triumphant, Through A Dark Wood is a breakthrough moment for Sea Wolf.
Sea Wolf first captured attention with the breakout track "You're A Wolf" off the debut full-length Leaves In The River. He has since released three studio albums and one stripped-down LP, establishing a reputation for his poignant delivery and dexterity as a songwriter and garnering positive coverage from NPR Music, Rolling Stone, Pitchfork, The New York Times and more.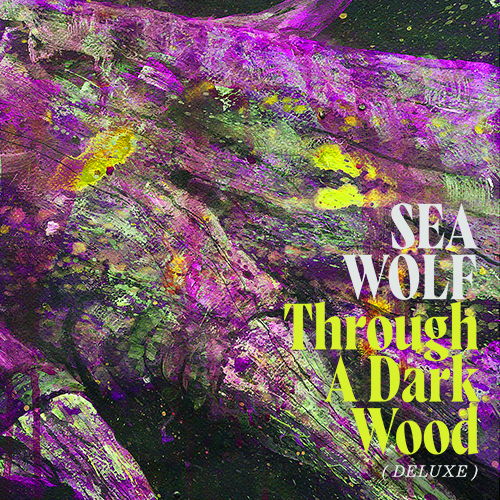 Sea Wolf
Through A Dark Wood (Deluxe) 
Tracklist:
Disc 1:
1 – Forward
2 – Blood Pact
3 – Break it Down
4 – Forever Nevermore
5 – Fear of Failure 
6 – Back to the Wind 
7 – I Went Up, I Went Down 
8 – Under The Spell Again 
9 – Moving Colors 
10 – Frank O'Hara
11 – Two of Us
Disc 2: 
1 – Reflections on a Grey Dawn (feat. Dustin O'Halloran)
2 – Witchknife
3 – Two Figures
4 – Here For You
5 – Animal Mind
FOLLOW SEA WOLF