Today, NO WIN have released their second studio album Dodger Stadium, continuing their streak of positive, catchy, and colorful 90s vibes directly following their 3 song EP Enhanced CD released earlier this year. The new album includes the two lead singles "Surfing" and "Hit the Line" alongside all 3 songs from Enhanced CD: "New Year," "Spent Outside," and "The Hit." Dodger Stadium is available now as a digital release from Dangerbird Records.
LISTEN TO DODGER STADIUM
---
Under the moniker NO WIN, Danny Nogueiras blurs the lines between power pop, punk, and good old fashioned rock and roll. He grew up playing music as a kid, so it's been in his blood his whole life. But it wasn't until he moved to Long Beach in 2008 that his passion started to resemble a career. Around that time, he toured in emo and Americana bands, performing DIY shows around the American West. Nogueiras was also working in a Los Angeles recording studio with people who were in up-and-coming LA bands. Watching the livelihoods of the musicians around him take off motivated Nogueiras to aim his ambitions a little higher. "I was, like, 'oh shit!' I saw my first taste of what being in a band could be," Nogueiras says. "That was the first time I was around people that were making cool art and were living on it."
After moving from the suburbs into LA proper, Noguerias cut his teeth recording bands in makeshift spots around the city. He eventually toured with the SWMRS-adjacent act Waterloo Teeth and engineered projects by bands like Built To Spill, The Regrettes, and Together Pangea, Little Joy, and many more. He founded NO WIN as a solo act in 2015, after the dissolution of a former band he'd been playing in. "I started NO WIN as a way to write songs, put them out, and not think about it," he says. "My music sounded lofi and I owned a studio. It was more about getting the material down." It wasn't until Noguerias signed the project to the legendary LA label Dangerbird that he started to take NO WIN more seriously.
NO WIN's 2019 debut, downey, found Nogueiras fully embracing his rocker background. With its energetic arrangements and hooky songwriting, the record presented 29 minutes of leather clad, sweaty energy. The project's latest, Dodger Stadium, builds on that formula, but fleshes it out with increased complexity. "Grow Out Of It" pairs an Oasis-y melody with a sauntering hip hop rhythm. On "New Year," a trebly riff rests atop a whiskey-soaked instrumental. "Time Killer" is lively, and captures a slice of the SoCal sound that is so crucial to the project's roots. "I was listening to a lot of Hüsker Dü and I kind of wanted to get into this, like, heavier version of poppy rock stuff, but with darker sounds," Nogueiras says. Alongside that, he was drawing inspiration from some goofier music, like Sugar Ray and Third Eye Blind. You can sense that dichotomy on Dodger Stadium. These latest tracks certainly pack a punch, but they always remain lighthearted, approachable, and fun.
Noguerias currently runs Balboa Recording Studio in LA's Glassell Park neighborhood, and his seasoned production chops really shine through on the album. downey was already pretty polished and sonically impressive, but the recording space feels like more of an instrument on Dodger Stadium. The record was co-written by Jeff Enzor (Joyce Manor, Merry Christmas) and David Jerkovich (Deep Dreem, Ill Lit, Kind Of Like Spitting). Jerkovich also helped produce the project and runs Balboa with Noguerias. On the opener "Hit The Line," chunky synth basses support peppy piano chords and soaring, confident melodies. "Surfing" utilizes a pitch-manipulated dial-up modem sample and a funky, vinyl scratch-driven drum break to support a repeat refrain. "Why is it so hard to live in these modern times?," Nogueiras ponders over the beat, which brings to mind The Avalanches or MF Doom. Best of all, on "Crook," a whirring electronic groove lays the framework for a crystalline, country-tinged guitar riff. Nogueiras' rowdy artistic roots are still on display, but with this record, NO WIN's musical aesthetic is a lot less easy to pin down.
Dodger Stadium came to life early in the pandemic, and themes of political dissatisfaction, confusion, and societal angst peak through on the album. The horror of the Trump Administration and the uncertainty of COVID put Nogueiras in a weird headspace. However, instead of letting that negativity manifest itself as gloom, he inadvertently found himself making art as a way to boost morale. "The studio became a safe haven and it felt really good to express things and explore things here (Balboa) that were, like, 'fuck yeah! This feels fun, this feels good, this feels happy!'," Noguerias says when asked about the things going on in his life that shaped his work. It's this overt sense of optimism that makes the record so exciting and memorable.
Unsurprisingly, the California lifestyle had an impact on the album, which takes its name from the baseball stadium where the Los Angeles Dodgers play. "It's always been this center of culture in Northeast LA for me," he says of the landmark. "In this past year, while we were making this record, I was there at least once a week for COVID testing. I got vaccinated there. I got to vote against Donald Trump there." The arena became a symbol of hope for Nogueiras as he yearned for the return of live shows.
With the album out in the world, Noguerias isn't too hung up on careerism. Instead, he just wants these tracks to resonate with his listeners and find loving new ears. Ultimately, though, it's not hard to imagine these things working hand in hand. "What good's a candle if both ends aren't lit? / If you're not chasing something / Maybe you're just a target," he sings on the closer "Burnout," which is hands down the darkest track on the record, inspired by a period in which Nogueiras was giving up partying to focus on building a family. With its understated-but-palpable ambition, Dodger Stadium captures the sound of NO WIN effortlessly taking things to the next level.
---
NO WIN LINKS
Website | Instagram | Twitter | Facebook | Bandcamp | TikTok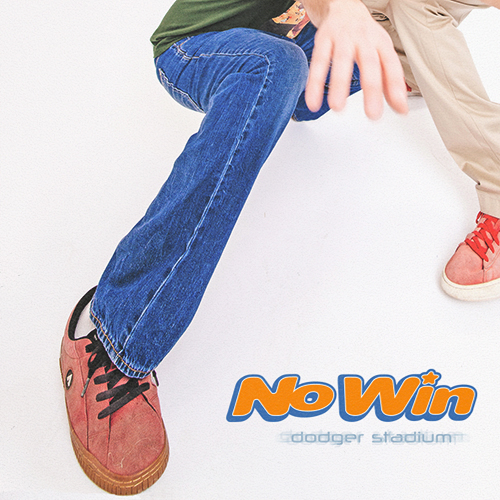 Dodger Stadium
1 – Hit The Line
2 – New Year
3 – Where You From
4 – Grow Out Of It
5 – Spent Outside
6 – Surfing
7 – Time Killer
8 – The Hit
9 – Crook
10 – Working Late
11 – Burnout
---
For All NO WIN Related Press Inquiries Please Contact
Kip Kouri kip@tellallyourfriendspr.com
Erin Christie erin@tellallyourfriendspr.com