Today, NO WIN have released the Enhanced CD EP, a tight blast of positive 90s vibes which includes two previously released singles "New Year" and "Spent Outside" and a new song, "The Hit". The EP is available now as a digital release and a limited-edition CD from Dangerbird Records. 
NO WIN leader Danny Nogueiras surfs waves of positivity across the three tracks, empowered by the everlasting season in Southern California and reflecting that energy right back at his listeners. Speaking on "The Hit" Nogueiras said, "I really wanted to make a song that made me feel like I was at a pool party. No bad vibes, just fun and thinking as little as possible. The last two years didn't leave a lot of room for careless fun in my life so consider this track my vision board for this summer. Manifesting an endless pool party 2k22."
While an endless pool party might conjure imagery of cannonballs and barbeques, "The Hit" ends up promoting a much more universal agenda of slowing down, savoring the moment, and embracing feeling good with the refrain "I'm getting sick of all the salt in my sweet / it's like it's sacrilege to be so saccharine". There are flares of sax, guitar and synths that interweave as the chorus rises to a crescendo to declare, "I just want to live / I just wanna hang out / I don't wanna feel down". 
NO WIN fearlessly cruises the constellations of power pop, rock and punk, spreading the joyful gospel of a big, welcoming guitar hook and rock songs as vehicles for lighthearted, approachable fun.
NO WIN's 2019 debut full-length, downey – a rowdy love letter to Nogueiras' hometown – saw the band fully lean into pop melodies with ragged edges and an appropriately nonchalant eye across 29 exhilarating minutes.
Nogueiras founded NO WIN as a solo act in 2015, leaving behind the suburbs and the emo and Americana bands where he cut his teeth to embed himself in the LA scene. He performed at DIY shows with a variety of bands up and down the west coast and along the way began recording bands in makeshift spots around the city. He went on to run Balboa Recording Studio in LA's Glassell Park neighborhood where he has worked with The Regrettes, Together Pangea, Lukas Graham, Mean Jeans and others. 
Listen to Enhanced CD : https://ffm.to/enhancedcd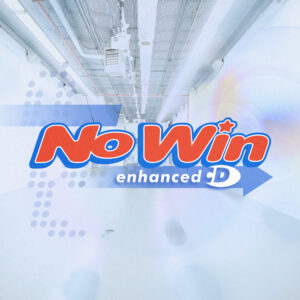 NO WIN 
Enhanced CD
Tracklist: 
The Hit

Spent Outside

New Year