August 25th, 2021 (Los Angeles, CA): California singer-songwriter Matt Costa has announced the Deluxe version of his acclaimed, 2020 full-length album Yellow Coat. Featuring five new, live recordings of tracks from the album along with "When The Avalanche Comes" featuring Jack Johnson and Zach Gill, Yellow Coat (Deluxe) is set to be released on October 8 via Dangerbird Records (pre-order HERE). Costa had the following to share about the Deluxe release and how it came about: "I wanted to make a series of special performances for a Deluxe version of 'Yellow Coat', leading it off with a mantra I will carry with me forever ['Let Love Heal']. On this Deluxe version [collaborator] Minh Pham and I delve deeper into the songs of the album. This was only possible with her. I'm truly in awe of the way she sees, captures and brings forth things heard but not yet seen. These solo performances in the 'Yellow Coat' theatre are the songs boiled down to the essence. We hope you enjoy."
Additionally, Costa has announced a fall U.S. co-headline tour with David Ramirez in addition to his scheduled appearance at Americanafest in Nashville, TN on Saturday, September 25. Kicking off on October 13 in Lubbock, TX, the tour will visit markets across the midwest and west coast of the U.S. and culminate in an appearance at Casbah in San Diego, CA on November 9. A full listing of dates can be found below.
Produced by Alex Newport, Yellow Coat is a masterpiece of heartbreak, equal parts lost Sixties AM radio hits, folk-pop beauty and dark night of the soul music. Taking inspiration from Van Gogh's Dear Theo along with John Steinbeck's A Life in Letters, and stamped with the honesty and intimacy of something not meant to be heard, Yellow Coat is the product of Costa penning letters to himself about the end of a relationship that had lasted almost a decade.
 As his second LP for Dangerbird Records and the follow-up to his well-received concept record Santa Rosa Fangs – an album that revealed similar storytelling qualities present in the work of other likeminded American songwriters such as Kurt Vile and Damien Jurado – Yellow Coat channels Costa's raw emotion into a collection of hooky love songs, most of them awash in strings, Mellotron, harmonies and groove.
 After connecting with notable producer Alex Newport (Death Cab for Cutie, At the Drive-In), the songs of Yellow Coattook shape with Costa enlisting the help of touring musicians and friends from afar. From the insinuating acoustic riffs and lo-fi beats of the album's lead single "Avenal" and the snappy fatalism of "Slow" to the almost church-like fragility of "Last Love Song," Yellow Coat is brimming with bittersweet narratives of love's power to both soothe and devastate. For instance, when Costa first wrote what became "Last Love Song," it had a different title and was meant to be an anniversary gift. A true testament to the concept that songs evolve and can change meaning over time, the track turned into a break-up song, its sadness as palpable as the sound of Costa's fingers on his guitar strings.
Matt Costa will be making the following appearances this fall. Dates below with more to be added soon.
9/25 – Nashville, TN @ City Winery Lounge
9/30 – San Juan Capistrano, CA @ Coach House
10/08 – Los Angeles, CA @ Venice West
10/13 – Lubbock, TX @ Blue Light **
10/14 – Tusla, OK @ Vanguard **
10/16 – St. Louis, MO @ Del Mar Hall **
10/17 – Newport, KY @ Southgate House Revival **
10/19 – Ann Arbor, MI @ The Ark **
10/21 – Aurora, IL @ The Venue **
10/22 – Chicago, IL @ Martyr's **
10/24 – Milwaukee, WI @ Shank Hall **
10/25 – Madison, WI @ High Noon **
10/26 – St. Paul, MN @ Turf Club **
10/27 – Davenport, IA @ Racoon Motel **
10/29 – Pueblo, CO @ Brules Ale House **
10/31 – Salt Lake City, UT @ Urban Lounge **
11/04 – Petaluma CA @ Mystic Theatre **
11/05 – Santa Cruz, CA @ Atrium at Catalyst **
11/06 – Sutter Creek, CA @ Sutter Creek Theatre **
11/07 – Berkeley, CA @ Cornerstone **
11/08 – Morro Bay, CA @ The Siren **
11/09 – San Diego, CA @ Casbah **
**with David Ramirez
Matt Costa – Yellow Coat (Deluxe) tracklist:
Avenal

Slow

Make That Change

Let Love Heal

Last Love Song

Jet Black Lake

Savannah

Broken Eros (Interlude)

Yellow Coat

Sky Full Of Tears

When The Avalanche Comes

So I Say Goodbye

Slow (Live Deluxe)

Let Love Heal (Live Deluxe)

Make That Change (Live Deluxe)

Savannah (Live Deluxe)

Last Love Song (Live Deluxe)

When the Avalanche Comes (feat. Jack Johnson & Zach Gill)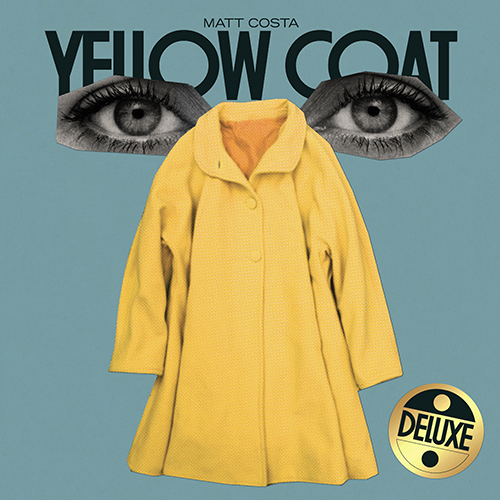 Website: https://www.mattcosta.com/
Facebook: www.facebook.com/mattcosta
Twitter: twitter.com/mattcosta
Instagram: www.instagram.com/mattcostamusic