Listen & Share: "All Night Stand (Crazy Rust Session)" 
Watch & Share: "All Night Stand (Crazy Rust Session)"
Listen & Share: Super Flower Blood Moon (Expanded Edition)
Joel Jerome has released a new digital album 'Super Flower Blood Moon (Expanded Edition)'. The new album adds five new full-band recordings of songs from Super Flower Blood Moon, Jerome's latest release on Dangerbird Records. 
Additionally, the multi-talented Mexican-American songwriter, performer and producer has announced a Los Angeles residency at Club Tee Gee for the month of November. Jerome will perform Monday nights backed by his band of fellow Neil Young enthusiasts The Blood Moon Band.. 
Of the new expanded tracklist, Jerome said, "Super Flower Blood Moon consists of recordings inspired by the phone demos they were born from, stripped down, intimate and atmospheric. There were live full band versions of these songs as well, recorded around midnight always during a full moon like Uncle Neil (Neil Young) suggests in his book Shakey. Ultimately the album was made to sonically reflect the early demos but these live versions were too good to leave on the shelf. Meant to be enjoyed with tequila and cheeseburgers during your next midnight adventure."
---
Joel Jerome released his new folk-pop album Super Flower Blood Moon in May via Dangerbird Records, with acclaim from Remezcla, FLOOD, Under the Radar, KCRW, Grimy Goods, Atwood Magazine, and more. 
Since first emerging with his crucial SoCal indie pop outfit Dios (Malos) in 2004, Jerome has become renowned for his work with artists such as LA Witch, La Sera and Cherry Glazerr at his own Psychedelic Thriftstore recording studio. Throughout the pandemic, the collaborative influence of Dangerbird A&R director Jim Fairchild led him to step away from his studio gear and take a simpler approach to songwriting, which helped fertilize his creative space. He then joined forces with powerhouse producer Rob Schnapf (Beck, Elliott Smith) to bring each track to life. The raw beginnings of Super Flower Blood Moon blossomed into an emotive stunner of a collection that pays homage to the music of his childhood by nodding to the Latin artists of his parents' generation, with additional sonic references spanning Guided by Voices, Angel Olsen and Fleet Foxes.
---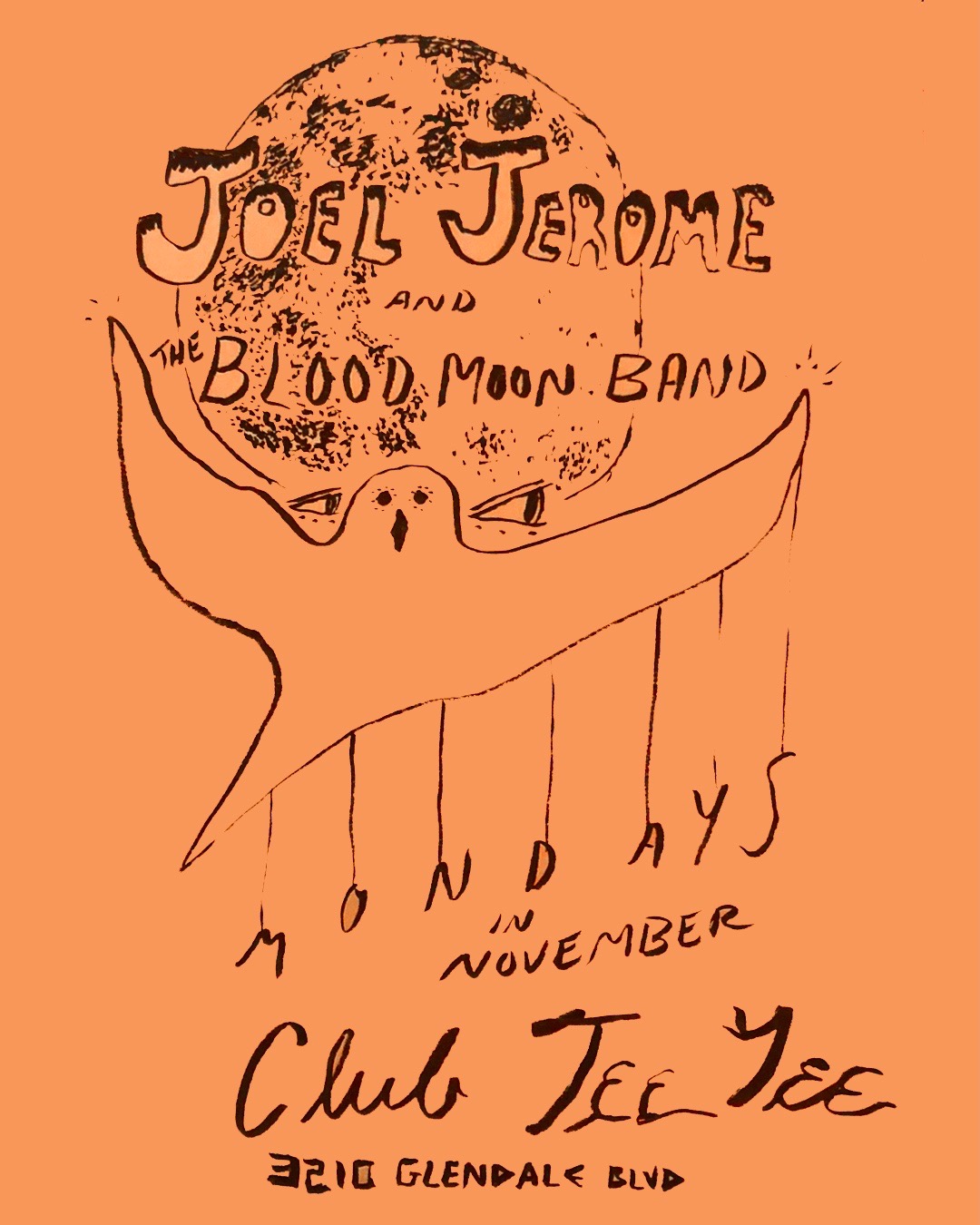 JOEL JEROME TOUR DATES:
MON 07 NOV Los Angeles CA @ Club Tee Gee 
MON 14 NOV Los Angeles CA @ Club Tee Gee 
MON 21 NOV Los Angeles CA @ Club Tee Gee  
MON 28 NOV Los Angeles CA @ Club Tee Gee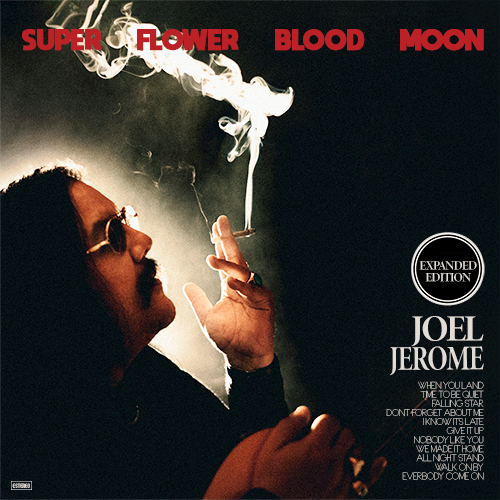 Tracklist: 
1 – When You Land
2 – Time To Be Quiet
3 – Falling Star
4 – Don't Forget About Me
5 – I Know It's Late
6 – Give It Up
7 – Nobody Like You
8 – We Made It Home
9 – All Night Stand
10 – Walk On By
11 – Everybody Come On
12 – Time To Be Quiet (Crazy Rust Session)
13 – All Night Stand  (Crazy Rust Session)
14 – Everybody Come On (Crazy Rust Session)
15 – We Made It Home (Crazy Rust Session)
16 – When You Land (Crazy Rust Session)
---
PRAISE FOR 'SUPER FLOWER BLOOD MOON':
" …strumming his acoustic guitar to a catchy melody about letting go of egotistical ambitions, bringing in a  Californian stoner blend of folk-inspired melodicism […] "Nobody Like You" is concerned with being in the present and taking a breath from this crazy world we're living in." – Remezcla
"Quiet and compelling, you can feel the folk on 'Nobody Like You.'" – KCRW "Today's Top Tune"
"A warm hug of heartfelt, wondrous, dark folk […] nothing short of stunning." – Atwood Magazine
"Falling Star" emphasizes the Latin American tradition of the former facet before dipping into a jaunty, 
piano-led pop chorus that recalls the psych-pop sounds of 1970s Southern California." – FLOOD
"Joe Cocker conjuring single filled with organ, shakers, gospel-style vocals" – SPIN
"Behind-the-Scenes Indie King" – LA Weekly 
---
Follow Joel Jerome:
Facebook | Instagram | Twitter | Bandcamp
For more information, contact:
Scott Osgood, scott@dangerbird.com, 626-628-7481
Sarah Avrin, sarah@girlieaction.com, 814-777-0709
Delanee Wilson, delanee@girlieaction.com, 404-858-0533