"Weirdly genreless and out-of-time, yet constantly reaching for some sort of cosmic agency." — Aquarium Drunkard
"Taps into Bob Dylan's most unpredictable vocal zones." — FLOOD
Today, 20-year-old singer-songwriter Hataałii shares "Laugh Out Loud," the latest preview of Singing Into Darkness, his debut album for Dangerbird Records out June 30. On its face, the liquid guitar tones and shuffling rhythms of "Laugh Out Loud" suggest the effervescence of a long-awaited backyard kickback. However, its lyrics marvel at the peculiar ordeal of growing up, a process that Hataałii describes as "like dodging encampments of cannibal battalions and trudging through the dizzying swirls of fast paced up-bringing only to come out feeling like just another pawn in a larger and more terrifyingly theatric-seeming circus of horror."
---
Raised in Window Rock, AZ, the capital of Navajo Nation, 20-year-old Hataalii's (pronounced: Hah-toth-lee) music has been praised by Aquarium Drunkard as "weirdly genreless and out-of-time, yet constantly reaching for some sort of cosmic agency," while FLOOD praises his penchant for "tapping into Bob Dylan's most unpredictable vocal zones." Indie hero Mac DeMarco is not only an inspiration but a fan, having shouted Hataałii out during a recent podcast interview.
Singing Into Darkness is a collection of gothic and jangly garage rock that Hataałii says reflects on "the shit that fucks with people in a bad way: an observer's take on the vices and foibles that obstruct people's lives." These songs are conjured not with heavy-handedness but an evocative text and imaginative presentation, recalling idiosyncratic wordsmiths from Allen Ginsberg to David Berman. As he sings about local politicians, unknowable gas station regulars, and John Wayne-worshiping tourists, Hataałii, who played every instrument on the album, provides wiry yet muscular backing that oozes with warmth and menace. 
Earlier this spring, Hataałii shared lead single "Midnight Soldier," a track hefty with a barren desert ambience. Hataalii snarls as he plays off the music's accelerating tensions and ribbons of fluttering guitar as he embarks on a doom spiral that's part Television, part Jonathan Richman. Watch the striking "Midnight Soldier" video, filmed in black and white in downtown Alburquerque, here.
Keep an ear out for Hataałii live dates to be announced soon. 
Pre-order Singing Into Darkness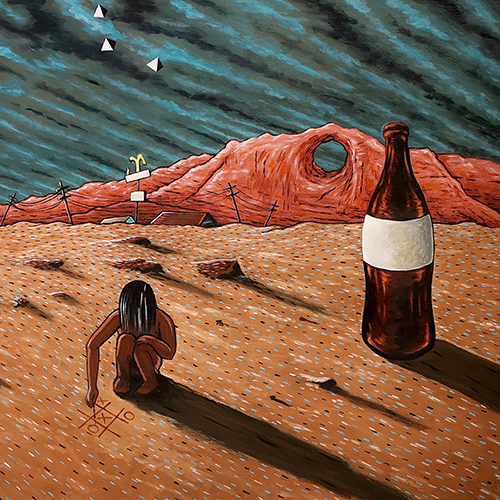 Singing Into Darkness Tracklist
Midnight Soldier
Laugh Out Loud
For Liquor
Story Of Francisco
Male Rain Days
Shouters Shame
Tsaile Southbound
Council Delegate's Wife
Pain In Popejoy's Hand
Once More
Standing Ovation
Double Doors
Connect With Hataałii