←

Back to News
Slothrust Share New EP 'I Promise' + "Maybe Maybe" Visualizer via FLOOD Magazine
Oct 20, 2023
LISTEN/PURCHASE & SHARE: Slothrust – I Promise EP
Purchase / Stream
LISTEN/WATCH & SHARE: Slothrust – "Maybe Maybe"
Stream / YouTube
LISTEN/WATCH & SHARE: Slothrust – "Pony"
Stream / YouTube
---
Following the recent release of their standout cover of Ginuwine's "Pony," today, Slothrust — the duo composed of principal songwriter, guitar player, and unrepentant aesthete Leah Wellbaum and drummer Will Gorin — unveils their full brand new EP entitledI Promise, out now via Dangerbird Records.
The pair additionally celebrates their new release with the drop of the EP's focus track and final single, "Maybe Maybe," alongside a brand new dedicated visualizer.
"Maybe Maybe" considers what it means to be a human caught in the forever wheel of neurosis, and the possibility of finding peace and sovereignty in an erotic connection to nature. In other words, as the duo wrote: "'Maybe Maybe' is about feeling a stronger erotic connection to nature than to other people. Lyrically, it is born from a non-dualistic space and a deep desire to be in connection with the cosmos and dramatic weather."
"I love secrets hidden in plain sight," says Slothrust guitarist, singer and songwriter Leah Wellbaum. Approaching a decade since their fiercely innovative debut, Wellbaum and drummer/percussionist Will Gorin search for the keys to secrets with Slothrust as they pick at the locks of guitar rock, moving it forward with an expansive and unconventional lean.
The new EP I Promise is centered around a sly, thunderous take on the 90s R&B freakytime classic Ginuwine's "Pony" and two new singles "Maybe Maybe" and "Magic Glow." The band's rendition of "Pony" was released earlier this summer with an accompanying music video, and is followed by focus track "Maybe Maybe" today.
With "Pony," Wellbaum and Gorin take Timbaland's iconic beat and Ginuwine's carnal a cappella and build a whole new world around the original's three powerhouse chords and effervescent low end. Slothrust's version swings like a lithe slice of sludgy rock 'n' roll and is a revelatory venn diagram of best '90s nostalgia and forward-looking celebration of the now.
"I feel like we have developed our own unique sound to the point where we can ask ourselves 'what would Slothrust do?'" says Gorin. "The paradox being that if we knew, Slothrust would do the opposite."
The two new originals, "Maybe Maybe" and "Magic Glow," which feature Gorin on drums and bass for the first time, are anchored by Welbaum's manic guitar melodies and meaty hooks. Slothrust's subversive pop instincts shine with lyrical nods to liminal spaces, ceremonial magick, and ecosexuality.
"Will and I have been playing different genres of music in different configurations together for almost 15 years now and that is a big part of our lock," says Wellbaum. "We know how to work with each other in a variety of different settings and how to communicate outside of what we do specifically. That offers us tremendous freedom."
Speaking of freedom, a prickly instrumental performance of "Somewhere Over the Rainbow" recasts the Wizard of Oz standard as raw off-Broadway punk, but it's the extended version of "Pony" that snaps necks. Clocking in at fourteen-plus minutes, Slothrust dives straight off the deep end with seared guitar solos and pulse-quickening drum patterns that pay homage to the original while showcasing the pair's strengths as groove-locked explorers at the peak of their powers.
"It's always fun to leave space in the music where improvisation is possible," explains Wellbaum, "and that is part of what is so exciting to us about the extended version of 'Pony'; it's entirely improvised, and we only did one performance of it in the studio."
Slothrust announced themselves as rewarding and fearless interpreters with their 2016 EP, Show Me How You Want It to Be. Tackling material as diverse and unexpected as their libidinous romp thru Britney Spears' "…Baby One More Time" and a grungy, sand-blasted rethink of Marcy Playground ("Sex and Candy"), their version of The Turtles "Happy Together" was a revelation that flipped that song's famously delusional narrative voice and breezy pop sound into a roaring articulation of objectified rage.
The full-length I Promise EP is out today via Dangerbird Records. Stay tuned for more from Slothrust, coming soon.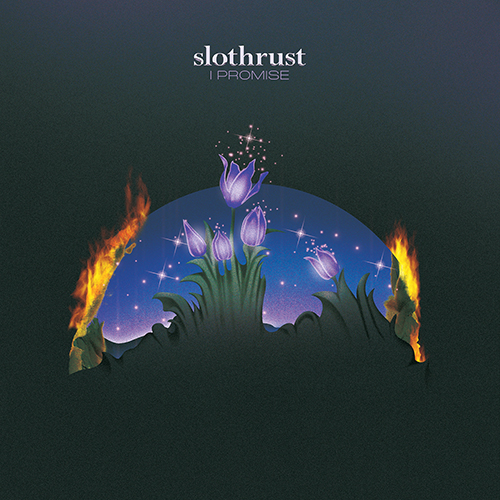 I Promise EP – TRACKLISTING
01. Pony
02. Maybe Maybe
03. Magic Glow
04. Somewhere Over the Rainbow
05. Pony (Extended Version)
06. Pony (Instrumental)
07. Pony (Acapella)
---
In addition to their new EP release, Slothrust is currently on tour with The Front Bottoms, and they are continuing their live run with a set of newly announced headlining tour dates to celebration the 10-Year Anniversary of their release, Of Course You Do.
SLOTHRUST LIVE
^ with The Front Bottoms
* Of Course You Did 10-Year Anniversary Tour
OCT 20 FRI – SOMA SAN DIEGO @ 7:00pm – San Diego, CA
OCT 24 TUE – Marquee Theatre @ 7:00pm – Tempe, AZ ^
OCT 25 WED – The Historic El Rey Theater @ 7:00pm – Albuquerque, NM ^
OCT 27 FRI – Diamond Ballroom @ 7:00pm – Oklahoma City, OK ^
OCT 28 SAT – Austin City Limits Live at The Moody Theater @ 8:00pm – Austin, TX ^
OCT 29 SUN – The Factory In Deep Ellum @ 7:30pm – Dallas, TX ^
OCT 30 MON – Marathon Music Works @ 7:00pm – Nashville, TN ^
OCT 31 TUE – Marathon Music Works @ 8:00pm – Nashville, TN ^
NOV 2 THU – Iron City Bham @ 7:00pm – Birmingham, AL ^
NOV 3 FRI – St. Augustine Amphitheatre @ 7:00pm – St. Augustine, FL ^
NOV 4 SAT – The Eastern @ 7:00pm – Atlanta, GA ^
NOV 5 SUN – The Senate @ 7:00pm – Columbia, SC ^
NOV 7 TUE – The Ritz @ 7:00pm – Raleigh, NC ^
NOV 8 WED – The Fillmore @ 7:00pm – Silver Spring, MD ^
NOV 10 FRI – Terminal 5 @ 7:00pm – New York, NY ^
NOV 11 SAT – Terminal 5 @ 7:00pm – New York, NY ^
NOV 12 SUN – The Song & Dance @ 7:00pm – Syracuse, NY
NOV 13 MON – Jamestown Skate Products @ 7:00pm – Jamestown, NY
NOV 16 THU – Rose Music Hall @ 7:00pm – Columbia, MO
NOV 17 FRI – Reverb Lounge @ 7:00pm – Omaha, NE
NOV 18 SAT – WAVE @ 7:00pm – Wichita, KS
NOV 19 SUN – Black Sheep @ 7:00pm – Colorado Springs, CO
JAN 19 FRI – Bottom Of the Hill @ 7:00pm – San Francisco, CA*
JAN 20 SAT – Bottom Of the Hill @ 7:00pm – San Francisco, CA *
JAN 21 SUN – Goldfield Trading Post Roseville @ 7:00pm – Roseville, CA *
JAN 23 TUE – Volcanic Theatre Pub @ 7:00pm – Bend, OR *
JAN 25 THU – Polaris Hall @ 7:00pm – Portland, OR *
JAN 26 FRI – Polaris Hall @ 7:00pm – Portland, OR *
JAN 27 SAT – Madame Lou's @ 7:00pm – Seattle, WA *
JAN 28 SUN – Madame Lou's @ 7:00pm – Seattle, WA *
JAN 31 WED – The District Bar @ 7:00pm – Spokane, WA *
FEB 2 FRI – El Korah Shrine @ 7:00pm – Boise, ID *
FEB 3 SAT – The State Room @ 7:00pm – Salt Lake City, UT *
FEB 6 TUE – The Holland Project @ 7:00pm – Reno, NV *
FEB 8 THU – Casbah @ 7:00pm – San Diego, CA *
FEB 9 FRI – Teragram Ballroom @ 7:00pm – Los Angeles, CA *
FEB 10 SAT – Chain Reaction @ 7:00pm – Anaheim, CA *
---
PRAISE FOR SLOTHRUST
"Swapping bombastic R&B for sleek, bass-driven rock, Slothrust's 'Pony' honors the original by treating it with reverence and respect, rather than poking fun. The result is a hard-rocking rendition complete with distorted low-end, syrupy guitar lines, hard-hitting drums, and hypnotic lead vocals."
– Consequence – Origins Feature
"'Pony' goes grunge, trading the original winding bass instrumental for fuzzier and notably heavier guitar and drum work from duo Leah Wellbaum and Will Gorin. Wellbaum shines on the song, delivering the lyrics with a knowing wink and the perfect hint of seduction."
– Billboard
"With their 'Pony' cover, Slothrust transform the song into a rumbling rocker, rendering its hiccuping-talkbox bassline into primal heavy rock."
– Stereogum
"The oddly sensual and overtly sensory combine in Slothrust's new video for 'Birthday Cake'…"
– PAPER Magazine
"…bluesy alt rock with stellar guitar work and swaggering wordplay. Frontwoman Leah Wellbaum confronts you in a way that's both intimidating and intriguing as she prods: "Have you ever faked sick before? Because I'm faking it right now."
– Stereogum
"Against jaunty acoustic strums, frontwoman Leah Wellbaum juxtaposes the helplessness we feel as adults with the freewheeling rowdiness of a child's birthday party."
– Consequence of Sound
"Oh, and did we mention the song is slinky, breezy and cool AF? There. Now we did."
– Alt Press
"Wellbaum challenged herself with stream-of-consciousness, automatic writing exercises in the making of "Peach," all the while cranking up funhouse-mirror guitars toward an absolute wrecker of a chorus."
– Billboard
"'Peach' cleverly juxtaposes Wellbaum's wry lyrical claim that she is 'soft as a peach' with the thunderous roar of her guitar, as well the powerful rhythm section constructed by drummer by Will Gorin and bassist Kyle Bann…That kind of versatility is rare and underrated."
– The 405
"Listen to songs by Slothrust, and you'll hear aggressive sounds that hearken back to early-'90s rock bands like Nirvana and Dinosaur Jr. Listen more closely, and you'll also hear elements of the blues that the band's members learned when they met in their college's jazz program."
– NPR Music
"Tender fingerpicking passages lurch into crashing speed-metal crescendos, loping country-western equestrian odes edge into menacing horror-movie pizzicato and back again."
– Village Voice
SLOTHRUST LINKS
Website | Facebook | Twitter | Instagram | YouTube
For All Slothrust Related Press Inquiries, Please Contact
Kip Kouri kip@tellallyourfriendspr.com
Erin Christie erin@tellallyourfriendspr.com