←

Back to News
Grandaddy Unveils Intimate "Derek Spears" Video From The Vaults Filmed Live at a California Travelodge, December 11, 2008 + 'Sumday: Excess Baggage' Rarities Collection Digital Released this Friday on Dangerbird Records
Aug 25, 2023
"While the melodies have grown catchier and the arrangements more focused, [Jason] Lytle has leapt into the lyrical big leagues with unassuming songs about entropy and epiphany." – Rolling Stone
"Sumday is all glorious, throbbing heart." – Pitchfork
"it sounds so good." – NPR, Bob Boilen
"iconic indie rock outfit" – FLOOD
---
Modesto, CA's legendary indie-rock group Grandaddy will release a special digital edition of Sumday: Excess Baggage, a thirteen-track collection of rarities and b-sides from the Sumday-era, this Friday, August 25 on Dangerbird Records. This new collection offers fans an opportunity to hear & own a digital version before its physical release as part of the Sumday Twunny 20th Anniversary Boxed Set – which includes the remastered original album, a complete 4-track demo version titled Sumday: The Cassette Demos, and Sumday: Excess Baggage – on Sept 1. 
Acclaimed album singles "The Town where I'm Livin Now" and "Derek Spears" garnered excitement spanning NPR, FLOOD, Uproxx, BrooklynVegan and Under The Radar. Recently made available digitally for the first time ever, the band is thrilled to share a never before seen "Derek Spears" live video from the vaults, filmed Live at a California Travelodge on December 11, 2008.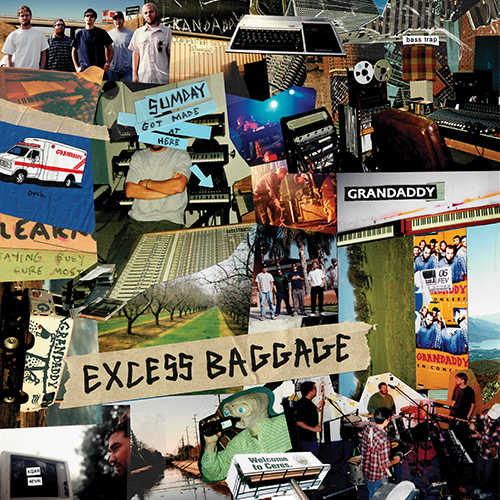 "After many years of hammering away at writing and recording as Grandaddy, Sumday seems to be the center of it and where it all peaked. To the journalists we were, 'On the verge of greatness, underrated, overlooked, unsung.' It was a tumultuous and exciting time for us for sure. Also very exhausting," Lytle said.
"Revisiting this material and reflecting on those times has been a double edged sword. Bittersweet is an apt word, I suppose. Twenty years after the fact, I'm just grateful to be alive and kicking… celebrating that moment in time by re-releasing the original album, B sides and extras of that era, and even some raw cassette demos of the album itself a sort of sketchbook/rough draft of the LP in cassette form. So be it then. 'On the verge of greatness, underrated, overlooked, unsung.' This is what all of that sounds like.  I'll take it."
Grandaddy formed in 1992 and have released five official LPs, most recently 2017's Last Place. Grandaddy members include Jason Lytle, Aaron Burtch, Jim Fairchild, Tim Dryden, and the late Kevin Garcia, who passed away in 2017.
Website | Facebook | Twitter | Instagram 
Bandcamp | Spotify | Apple Music
For more information, contact:
Sarah Avrin | Charm School Media  sarah.avrin@charmschoolmedia.com 
Jenni Sperandeo | Dangerbird Records  jenni@dangerbird.com 
Scott Osgood | Dangerbird Records  scott@dangerbird.com