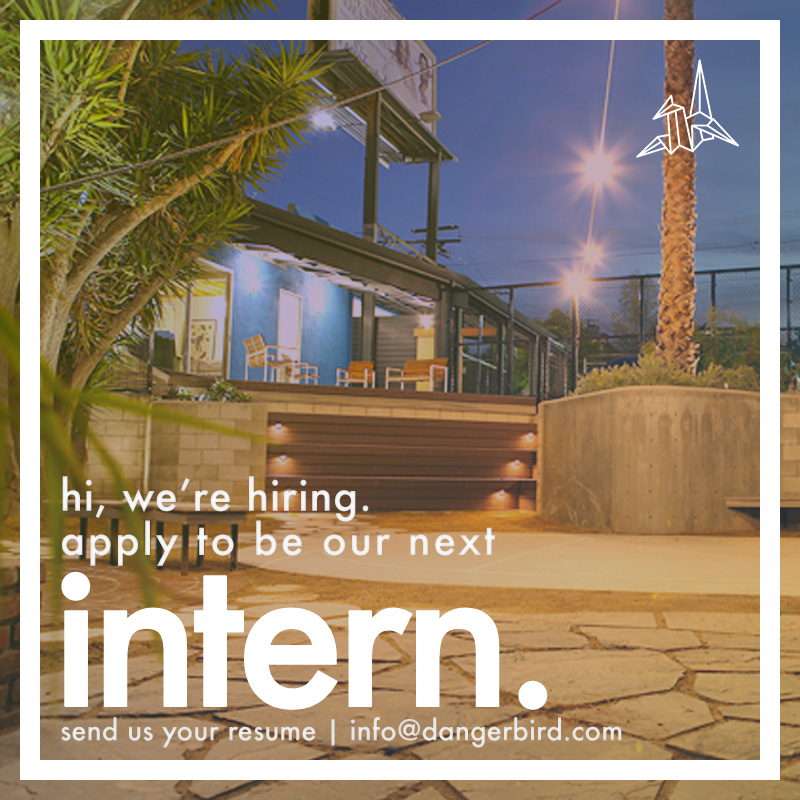 Independent record label Dangerbird Records is seeking a part-time intern (approximately 10-15 hours a week) to join our team in Los Angeles for the summer 2018 semester.
This is an unpaid internship and applicants must be earning college credit to apply. The ideal candidate is a skilled communicator, a creative problem solver, and one who is comfortable asking questions and contributing in lively internal discussions. This is a great opportunity to gain hands on experience in multiple facets of the entertainment business.
Responsibilities Include:
• General office support, weekly reporting, and database management
• Shipping and freight oversight and mass mailing assembly
• Content creation for label & artist social media outlets
• Inventory and vendor management
• Interface with artists, managers, booking agents, and label partners
• Scheduling and calendar management
• Press, promotion and tour marketing administration
• Special projects as assigned
Qualifications:
• Experience as a music business self-starter preferred (blogger, promoter, press, podcasting, radio)
• Comfortable with new technologies & social networks (Facebook, Twitter, Tumblr, YouTube, etc.)
• Proficient in Adobe Creative Suite, Microsoft Word, Excel and basic understanding of Mac based programs
• Comfortable with Dropbox, G-Suite, web-based ingestion and profile management dashboards
• Experience with Filemaker Pro or industry reporting platforms such as SoundScan, Mediabase a plus
• Passion for music, art, and a creative mind to help connect bands with fans
• Clear and concise writing skills required
• Basic design & HTML knowledge a plus
Send cover letter & resume to info@dangerbird.com by May 11th, 2018.
About Us:
Dangerbird was founded in 2004 to nurture and capture the creative energy of the Silver Lake, Los Angeles music scene. In its first decade, Dangerbird was home to breakout LA bands like Fitz and the Tantrums and Silversun Pickups, while also releasing defining works from Butch Walker, Minus the Bear, Royal Teeth, Sea Wolf, Darker My Love among others. Dangerbird is currently the home to Matt Costa, Slothrust, Juiceboxxx, Holly Miranda, The Dears and more.