From everyone here at Dangerbird Records, we'd like to say a huge thank you for a very fine year of great music, shows, and records. This year we're celebrating with a musical feast, Dangerbird Style. We've prepared 8 recipes for you all to serve at your Thanksgiving tables this year with the help of some of our artists including Holly Miranda, A. Sinclair, The Dears and more. Read on for the recipes and their accompanying tunes and don't forget to shop our holiday sale starting this Friday. Happy Thanksgiving!

Appetizer: Holly Miranda's "Eggs-quisite"

Ingredients
6 large eggs
2 tbsp mayonnaise
1 1/2 tbsp sweet pickle relish
1 tsp mustard
salt & pepper, to taste
paprika (garnish)
Directions:
Place eggs in a saucepan. Cover with cold water and place the pan over medium-high heat. Bring to a boil. Turn off the heat, cover and let stand for 12 minutes.
Drain the water and fill the saucepan with cold water. Gently peel the eggs and rinse.
Slice the eggs in half lengthwise. Carefully spoon out the yolks into a separate bowl. Add mayonnaise into the bowl and mash together with yolks. Once creamy, add relish, dijon mustard and salt and pepper. Stir well. Spoon the yolk mixture into the crevice of the halved egg whites. Garnish with paprika.
---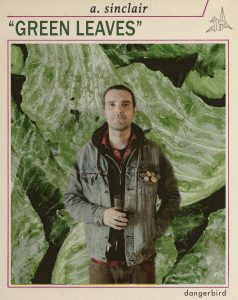 Side Dish: A. Sinclair's "Green Leaves"

Ingredients:
1 16oz package fresh collard greens
1/2 sweet onion, chopped
2 tbsp olive oil
1 tsp salt
3 cups water
Directions:
Place olive oil in pan over medium heat. Add onion, stirring occasionally. Cook until tender, usually between 5-10 minutes.
Add fresh collard greens, salt and water to pan. Bring to a boil.
Reduce to low heat and let simmer for roughly 30 minutes, until tender.
---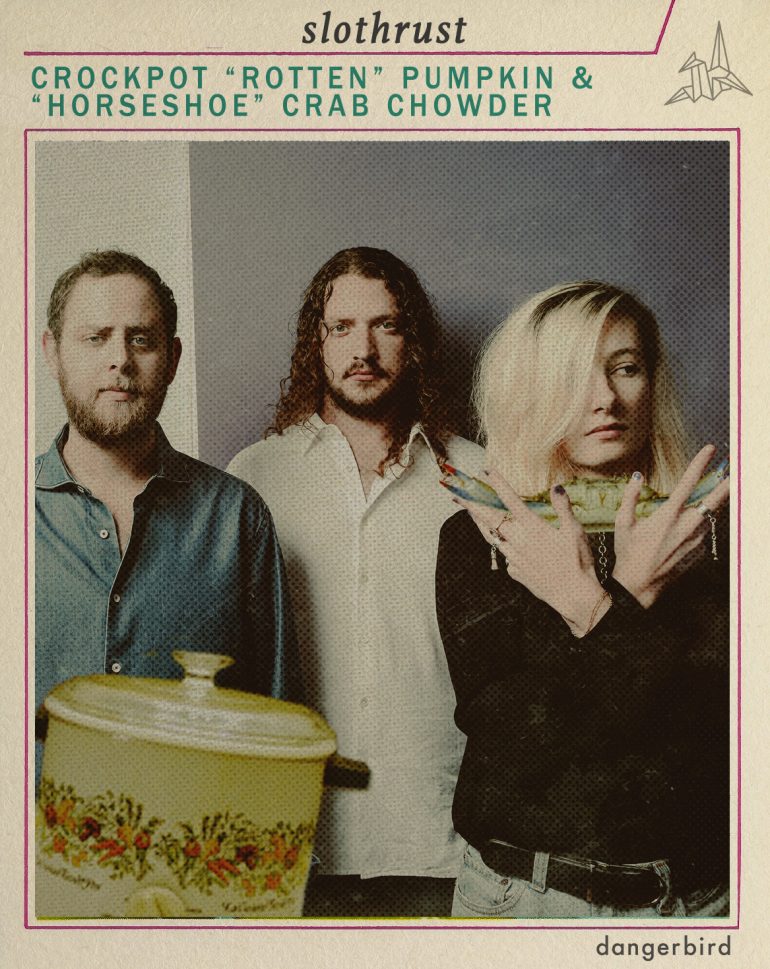 Side Dish: Slothrust's Crockpot "Rotten" Pumpkin & "Horseshoe" Crab Chowder
Recipe originally by Jenni Hulet via The Urban Poser
Ingredients
4 tbsp ghee or other oil
4 garlic cloves, minced
1 cup shallots, sliced
2 1/2 cups cooked pumpkin (not rotten)
3 cups unsalted chicken broth
1 cup asparagus, chopped
8oz mushrooms, sliced
1 tbsp packed fresh marjoram, chopped
1 tsp sea salt
1/2 lb crab meat (not horseshoe… we looked it up… not really edible :/ )
1 cup full fat coconut milk, canned
chives (garnish)
pepper, to taste
Directions:
Heat 2 tablespoons of the ghee/oil in pan over medium heat. Add the prepared garlic and shallots, gently frying them till the shallots are golden. Transfer the shallots, garlic and any leftover oil into a small bowl. Set aside.
Using a food processor or immersion blender, puree the cooked pumpkin, broth and onion mixture till mostly smooth. Transfer to a soup pot/wok over medium heat and slowly bring to a simmer.
Fry the sliced mushrooms in the remaining 2 tablespoons ghee/oil, till they are golden. Add the mushrooms, asparagus, marjoram, salt (omit if using salted broth) and half of the crab meat to the soup.
Transfer the soup to a crock pot set on low and slow cook for about 3-4 hours or let it simmer on the stove for about one hour instead. However the flavor is much richer when slow cooked.
To serve: 5 minutes before serving, add the coconut milk and the remaining crab meat. Season as desired. Garnish with chopped chives and serve.
---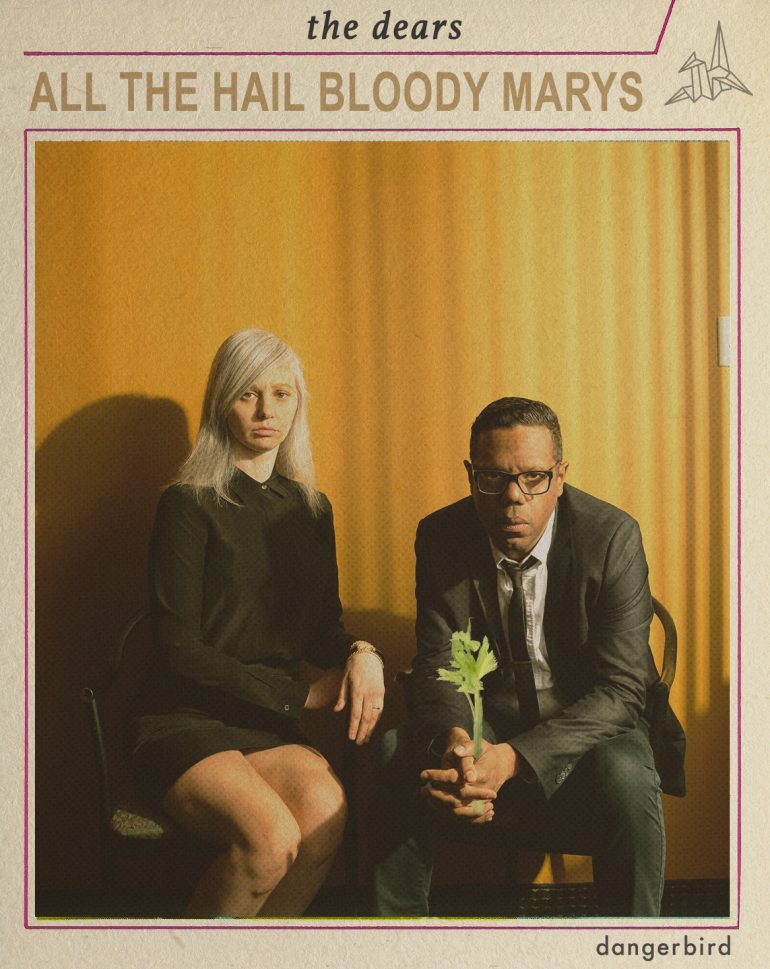 Beverages: The Dears' All the Hail Bloody Marys

Ingredients:
6 oz vodka
3 cups tomato juice
4 tbsp fresh lemon juice
1/2 tsp sriracha
1/4 tsp kosher salt
1/4 tsp pepper
1 1/2 tsp Worcestershire sauce
celery stalk, bacon strips, cheddar squares, rosemary, etc. to garnish
Directions:
Combine ingredients into gallon jug and chill before serving.
 Use toothpicks to garnish with a celery stalks, bacon strips, cheddar squares, green beans, etc to taste.
---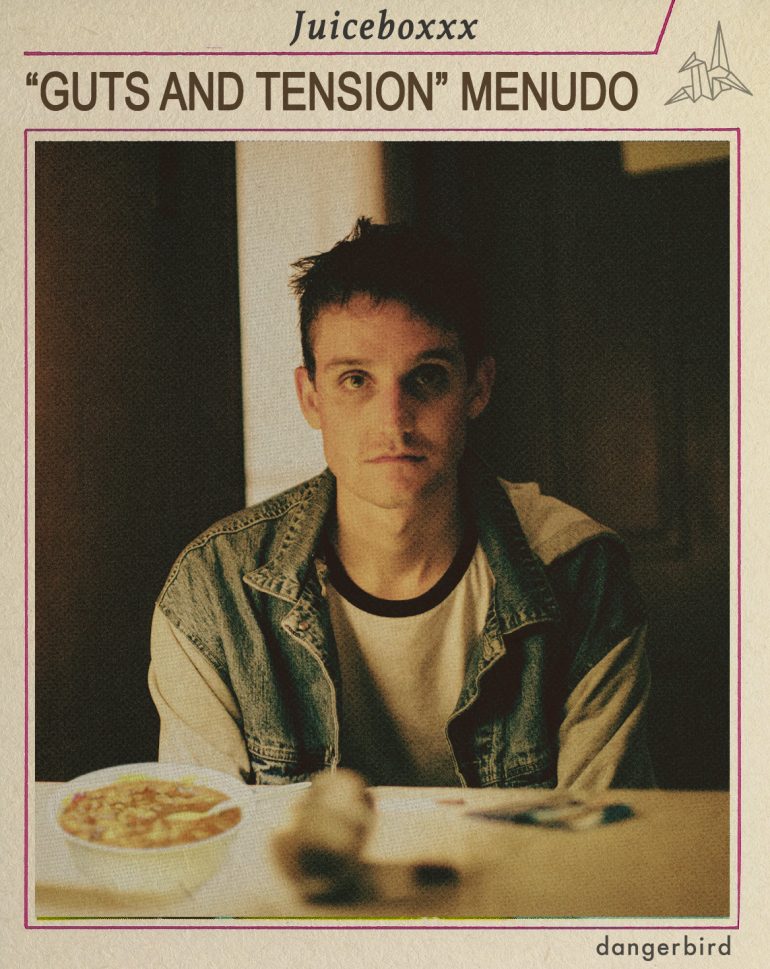 Main Dish: Juiceboxxx's "Guts and Tension" Menudo

Ingredients:
1 lb beef tripe, diced
3 fresh garlic cloves, minced
3 tsp salt
1/2 cup red chile powder
2 tsp oregano leaves
1 tbsp coarse black pepper
1 tsp cumin powder
1 small can hominy, yellow or white
cilantro, lime to garnish
Original recipe from Food Network
Directions:
Place the beef tripe into a pot of boiling water, just enough to cover the tripe
 Add garlic, onions and salt. Cover and cook for one hour.
When tender, add the remaining ingredients and cook for 15-20 minutes. Serves 4.
---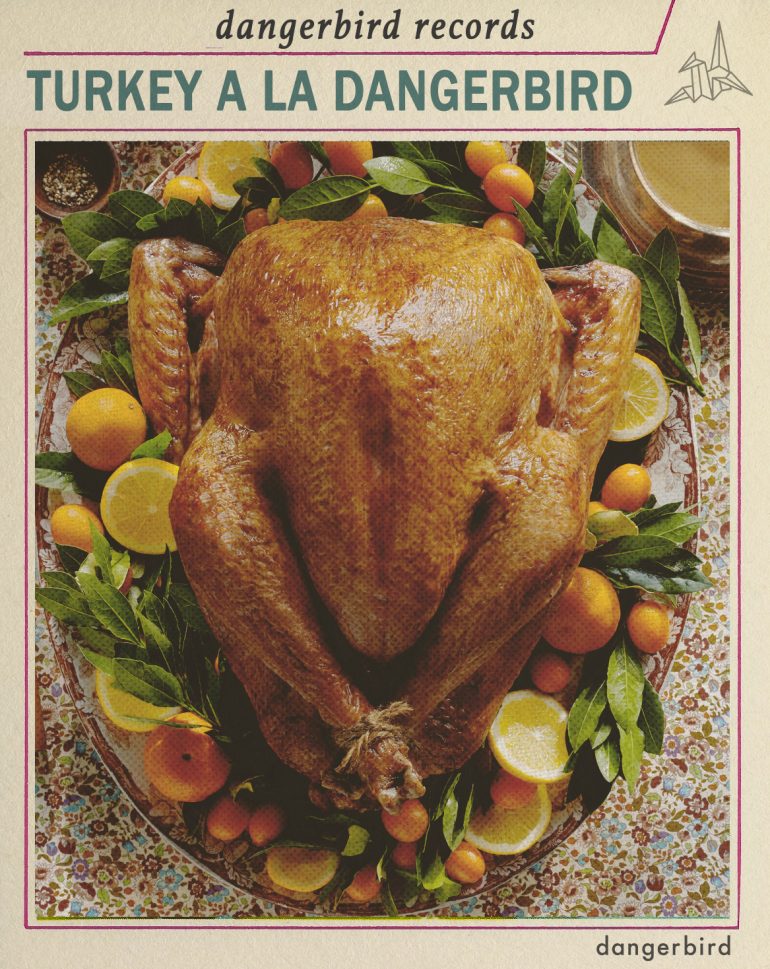 Main Dish: Turkey a la Dangerbird
Ingredients:
1 15 lb whole turkey
2 stalks celery, chopped
1 orange, wedged
1 onion, chopped
1 carrot, chopped
1 can chicken broth
1 bottle champagne
2 tbsp dried parsley
2 tbsp ground dried rosemary
2 tbsp rubbed dried sage
2 tbsp dried thyme leaves
1 tbsp lemon pepper
1 tbsp salt
Originally recipe from All Recipes
Directions:
Preheat oven to 350 degrees F. Line a turkey roaster with long sheets of aluminum foil (will wrap over the turkey later).
 Combine parsley, rosemary, sage, thyme, lemon pepper and salt into a small bowl. Rub the herb mixture into the cavity of the turkey, Stuff with celery, onion, and carrot.
Place the turkey in the roasting pan. Pour chicken broth and champagne over the turkey making sure to add champagne to the cavity. Bring the aluminum foil over the turkey and seal. Avoid having the foil touch the breast or legs.
Bake for 2 1/2 to 3 hours, until no longer pink at the bone and the juices running clear. Uncover the turkey and continue baking until skin is golden brown, roughly 30 mins to 1 hr longer. Test with a thermometer inserted to the thickest part of the thigh, near the bone. Should read 180 degrees F.
Carefully remove the turkey from the oven. Cover with a doubled sheet of foil. Let rest for 10-15 minutes before slicing.

---


Dessert: *repeat repeat's "Animal" Cookie Dip


Ingredients

1 box animal cookies
1 box Funfetti cake mix
3 cups Cool Whip
1 1/4 cups vanilla yogurt
Sprinkles

Directions:

Combine Funfetti cake mix, Cool Whip and vanilla yogurt in a large bowl. Mix well until smooth.
Gently fold in sprinkles. Serve with animal cookies to dip.

---

Dessert: Butch Walker's "Stay Gold" Apple Pie

Ingredients

6 tbsp unsalted butter
1/4 cup white sugar
1/2 cup brown sugar
1 pinch salt
1/4 tsp ground cinnamon
1/4 cup water
1 (15oz) package double crust ready-to-use pie crust
4 large red apples, cored and thinly sliced

Directions:

Preheat oven to 425 degrees F.
Melt butter in saucepan over medium heat. Add white sugar, brown sugar, salt, cinnamon and water. Stir until dissolved. Bring syrup to a boil. Turn off heat.
Unroll pie crust and press into a 9 inch pie dish. Place apples into the crust. Distribute 1/4 of the caramel syrup over apples evenly.
Roll out the second crust and cut into about 8 1 inch wide strips. Weave or cross the strips with each other into a lattice crust. Crimp the two layers of crust together around the perimeter of the dish. Use a fork if you're fancy.
Spoon the remaining syrup over the lattice, allowing the syrup to drizzle through the crevices of the lattice and onto the apples.
Bake for 15 minutes. Reduce heat to 350 degrees F and bake until golden brown and the apple filling is bubbling (about 35-40 minutes).
Remove the pie from the oven and let it cool before serving.