Join resident Arthur King & The Night Sea for a freaky Friday at The Hi Hat in Los Angeles in for the release of Unknown Movie Night (Pi) on January 26th. Joining them are special guests Joel Jerome and Dzang. $7 bucks gets you in! Guaranteed to be wonderfully weird in the artistic world of Arthur King and John Schlue in the world premiere of the Schlue Cube. Tickets on sale here.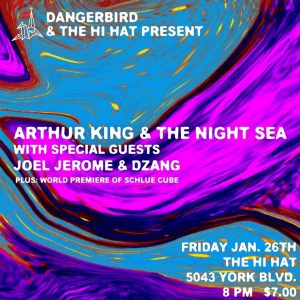 Unknown Movie Night: Pi is the first musical offering from the ongoing series "Unknown Movie Night": An evening where guests are invited to watch a film, eat popcorn, have a drink, and hear an improvised live score performed in a real time by the band. The "unknown" aspect of the show is that neither audience nor band know what film is being shown until it begins.
Available everywhere on January 26 via Dangerbird Records.